Slitting and Rewinding has become Hydra-Matic's most exciting and fastest growing department.
Unwind Slitting
Our Slitting and Rewinding department has numerous industrial state-of-the-art unwind slitting machines equipped with technology which allows us to convert material at high speeds and produce quality reworked material with tremendous accuracy. Material can be slit to custom specific widths and lengths onto a range of core diameters. All of our products can be slit to your required width. Material can be offered in standard roll length specializing in fiberglass and non-wovens. Hydra-Matic has crush cut and shear cut capabilities based on our customers desired specifications.
Log Slitting
Hydra-Matic also has equipment which is capable of log slitting material. Log slitting is a process where material is converted as a whole and one or more slices can be taken from the original roll without the unrolling or unwinding process.
Capabilities:
Slit widths from 1″ to 150″
Slit width tolerances to ± .031
Core sizes available 3″-4″-6″-8″-10″-12″
Unwind and rewind capabilities up to 96″ diameter rolls
Hydra Matic Slitting / Rewinding Competitive Advantages:
Quick Turn-Around / Lead times
Great Rates & Pricing
ISO certified Quality Control
Located Philadelphia Area easy access to all major highways, I-95, PA Turnpike, US 1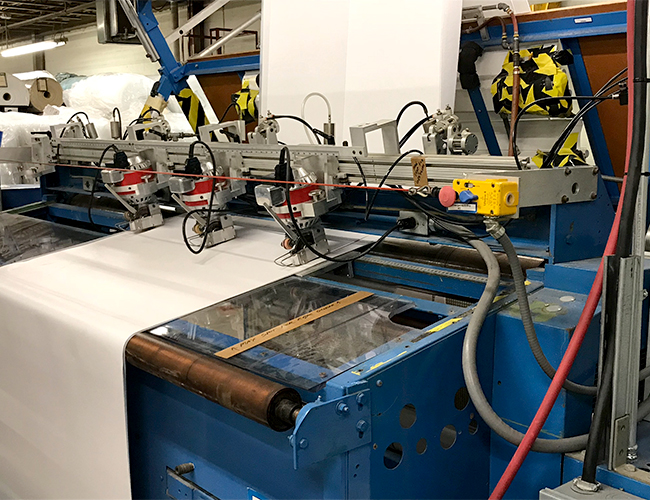 We manufacture products to fit your requirements. Let us contact you to learn more.